Nasir Adderley
Safety
Delaware
DOB - MAY 31 1997
Height - 6'0" Weight - 185 lbs
Twitter: @NasirAdderley
Strengths:
Nasir Adderley is a versatile safety that has shown the abilities to play both in the box, and in single high. Has tremendous range when working sideline to sideline in the run game, and reacting to the football in the air. Has great ball skills, due to his tracking ability, and receiver-like hands at the catch point. Plays with great athletic ability when making big hits, and making plays on the ball in coverage. Has experience playing corner, so is extremely good in man coverage for a safety prospect. Elite special teamer that had tons of success as a returner at Delaware. Very consistent tackler that showed the ability to wrap up in the open field, step up and make the big hit in the hole, or lay the boom on a receiver across the middle of the field. Plays with tremendous physicality both in coverage, and when stepping up and taking on blockers in the running game.
Weaknesses:
Has shown the tendency to get caught peeking into the backfield, which has lead to a few big plays for opposing offenses. Can be a bit of a guesser both in coverage and when playing the run. Both his instincts and awareness can improve when playing as a single high safety. Had a few reps where if he had just read the quarterback a tick quicker, he would have had a chance to make a play on the ball.
Giphy: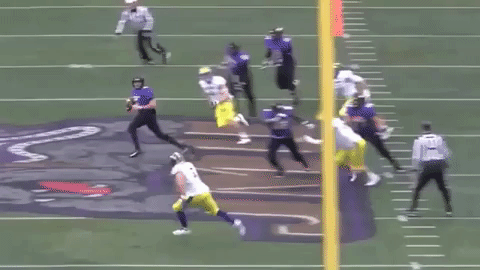 Overall Review:
Nasir Adderley is a fun player to watch. Adderley is extremely athletic, fluid, and plays with tremendous physicality in all three phases of the game. His range, insane ball skills, and tackling ability will certainly catch NFL scouts eyes when turning on his tape. Adderley will be playing in the Senior Bowl at the end of January with a chance to really help his stock with a good week down in Mobile against tougher competition. Adderley has all the traits you could ask for out of a small school safety, and the value he'll bring on special teams will make help his stock even more. If he can cut down on his guessing, and just learn to trust his eyes and instincts more, Nasir Adderley will be a fun player to watch on Sunday in 2019.
YouTube Highlights: