Penny Hart
Wide Receiver
Georgia State
Pro Day March 15
DOB - JUL 05 1996
Height - 5'8" Weight - 180 lbs
Twitter: @pennyhart2_
Strengths:
Good route runner, that showcases great lower body explosion in and out of his breaks. Can win vertically due to his speed, and ability to win off the line of scrimmage. Lined up inside, outside, and in the backfield at Georgia State. Good tracking skills, and reliable hands hauling in the deep ball outside of his frame. Had a ton of success with double-moves due to his ability to sell with his eyes/headgear, arms, and shoulders. Dealt with press coverage much better than expected given his size. Dynamic ball carrier due to easy change of direction skills which allowed him to pick up a ton of yards after the catch, as well as create easy separation on the short to intermediate routes. Showed great willingness and physicality when asked to block. He has experience on special teams returning both kicks and punts.
Weaknesses:
Had much more success catching the ball outside of his frame vertically than laterally. Limited catch radius due to his height and wingspan. Had a few concentration drops throughout his career at Georgia State. Production dropped big time in 2018, but that was mainly due to change at QB and scheme. Would like to see him be a bit more physical at the catch point when working vertically.
Giphy: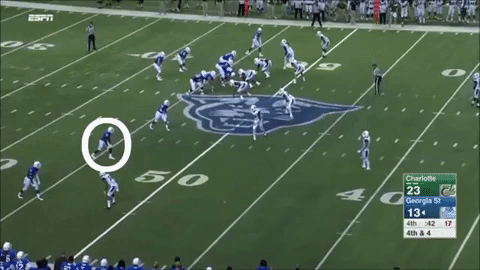 Overall Review:
Penny Hart is a really fun player to evaluate due to his dynamic ball carrying skills, the success he has had as a route-runner, and the value he can bring right away on special teams. Though his measurables may say otherwise, I think Hart can play both in the slot and lined up outside due to his ability to separate in all three levels, and his athletic ability. NFL teams are going to love the physicality he plays with when asked to block, and with the football in his hands. Holds extra value due to his special team's ability. Had insanely productive years in 2015, and 2017 before his production took a dip in 2018 due to offensive change at quarterback and scheme. Will have an opportunity in the Senior Bowl to really help his draft stock with a solid week against stout competition.
YouTube Highlights:
NFL Draft Talk Line Interview