Garrett Brumfield
IOL
LSU
Class Year: Senior
DOB - 6/23/1996
Height - 6'2" Weight - 300 lbs
Twitter: @thisisbruiser
Strengths:
The Kid they call 'Bruiser" played 45 games for LSU across four seasons. His physical and aggressive play works in his favour. He is all heart and is a natural born leader in the line. Bruiser has a strong, low pad to work with and gets the job done, even though it might not always be pretty. Creating movement at the point of contact with great hands, allow him to get in the secondary and punish additional opponents.
His technique is brilliant, as is his footballing mind. He will be a force to be reckoned with on the big stage. He is always looking for more work when he is unmarked.
Weaknesses:
He has a problem with over-extending himself and allowing defenders to get around him with ease. Couple this with poor foot movement and this could be a problem for him. The two are linked and will be fixed with the right coaching. Needs to learn to keep his head and eyes up at all times.
Can sometimes come across as too aggressive for no reason. Needs to pull that back a bit.
Giphy: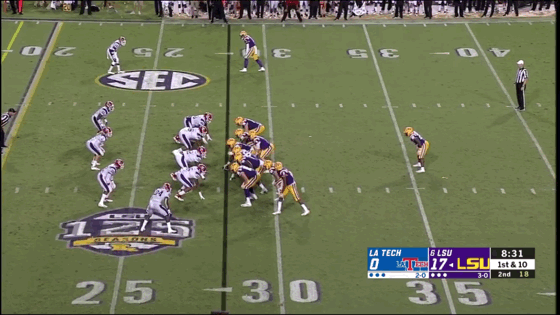 Brumfield #78 comes across the line, makes a great block allowing the RB to run through for a TD
Pro Comparison:
DeForest Buckner
Overall Review:
Despite not getting an invite to the Combine, Brumfield will be a day 2 pick in this year's draft. The LSU product is a good leader and will find a starting spot on an NFL roster eventually.
YouTube Highlights: