Andy Isabella
WR
UMass
Class Year: Senior
Height - 5'9" Weight - 190 lbs
Twitter: @AndyIsabella5
Combine Results:
40 Yard Dash – 4.31 seconds
Bench Press – 15 Reps (225 lbs)
Vertical Jump – 36.5 Inches
Broad Jump – 121.0 Inches
3 Cone Drill – 6.95 Seconds
Strengths:
Yes, there is a chance he is the smallest guy to come out of college since Muggsy Bogues graced the NBA. You can tell him that if you can ever catch him.
Isabella is a former sprinter and one of the quickest guys in this class. He showed that by running a 4.39 at the combine.
He will benefit from the recent rule changes. Meaning he won't be blindsided by cornerbacks due to his petite frame. He works best in a 1 v 1 situation and has a huge engine. As a crafty route runner, he creates separation well and causes headaches with his speed.
Weaknesses:
He struggles in contested catch situations. You won't find too many NFL cornerbacks who are his size. Hands are not the best either. Blocking is not his forte, but you can't expect that from a guy his size.
Giphy: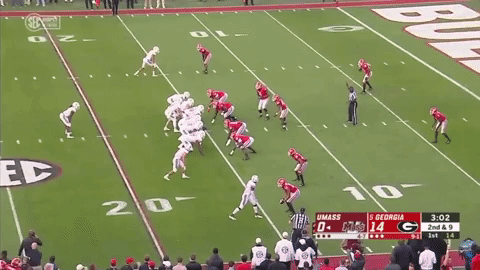 #5 Isabella is in motion and takes the ball for a first down.
Pro Comparison:
A quicker version of Darren Sproles. Much quicker.
Overall Review:
This guy has been mocked everywhere from the first round to undrafted. It's really hard to put a number on a guy like this. He needs an NFL coach who is willing to have a splashy guy on his roster. A coach who takes risks and likes to spread the field. Chiefs, 49ers or jets maybe.
Look for him in the fourth round.
YouTube Highlights:
STL Interview: