Sean Bunting
CB
Central Michigan
Class Year: Junior
Height - 6'0" Weight - 190 lbs
Twitter: @MrSeanyB1
Combine Results:
40 Yard Dash – 4.42 seconds
Bench Press – 14Reps (225 lbs)
Vertical Jump – 41.5 Inches
Broad Jump – 126.0 Inches
Strengths:
Bunting improved year-on-year throughout his college career. His physical ability and long arms will see him a threat to WRs in the NFL. He has quick reaction speed and late flash ability to get his hands between the ball and the opponent. Long speed and acceleration are his best assets. He is strong and has tough hands. His hips flow nicely when making transitions.
Bunting needs some work but could be an NFL starter in a year or two in the right system.
Weaknesses:
Overaggressive when there is no need for it. Can get himself into trouble for it at times. He grabs at players a lot. He won't last if the NFL if he can't drop this from his game. Has sloppy footwork, needs to tighten up. Seems to lose the ball in flight, reacts a little late for me.
Giphy: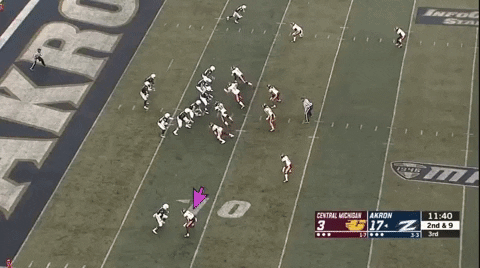 Bunting, the bottom of the screen, does well to gets his hands to the ball in 1 v 1 cover
Pro Comparison:
Xavier Rhodes
Overall Review:
He is a work in progress but could be a regular starter in the right NFL system. Being physically gifted works in his favor, as does his length. A cover-3 system would suit him best.
Look for him to go in the third or fourth round.
YouTube Highlights: