Johnathan Abrams
Safety
Mississippi State
Class Year: 2019
DOB – October 25 1996
Height – 5'11" Weight – 205 lbs
Twitter: @JohnathanAbram1
Combine Results: 40 Yard Dash – 4.45 seconds Bench Press – 16 reps (225) Vertical Jump –39.5 Broad Jump – 116.0 Inches 3 Cone Drill – N/A
Strengths:
Great speed. Can cover a lot of ground. A very physical player that can play both down in the box or high safety. Though close to the line of scrimmage is his ideal position. Above average coverage ability in the slot covering tight ends and slot wide receivers. He can really drive out of his backpedal on underneath routes and punishes when he gets there. Works well setting up and getting around blocks. Good recovery speed. Can take on/shed blocks in the box.
Weaknesses:
Average ball-hawking skills. He can be over aggressive versus the run causing bad angles and missed tackles. Prone to bite on play action at times.
Giphy: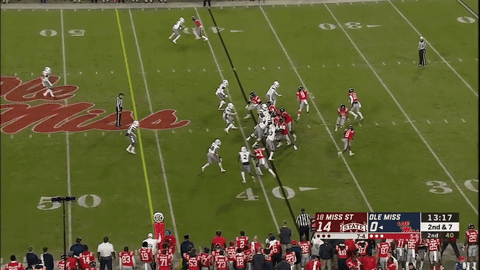 Pro Comparison:
Keanu Neal
Overall Review:
Overall Abrams may be the best strong safety prospect in the draft. Though he isn't the elite ball hawking type of safety that most teams/fans want, he has very good attributes that could see him being an immediate impact type player. Although he is better suited playing down in the box Abrams has the physicality, skills, and intangibles to become a player in the same tier as All-Pro Landon Collins and Pro Bowler Keanu Neal. Scheme fit is the difference in how teams will value him. He's better suited for aggressive defenses that like to keep a safety down low to blitz and help in the run game more than a traditional cover 2, 2 high safety defense. The super athletic safety was asked to play high, low, and nickel corner in his senior year where he finished 9th in the SEC in solo tackles, 8th in the SEC in total tackles, 9 tackles for loss, 8 pass breakups and 2 interceptions. Abrams has the size and strength to shed blocks from a lineman and the speed/size combo to cover tight ends. Abrams best, and sometimes worst, attribute is his aggressiveness in the run game. He flies downhill, which can sometimes cause him to take bad angles, over pursue, or bite on play action. But more often than not it usually ends with him trying to put the opponent through the ground. Abrams best trait in coverage is breaking on quick slant routes. The acceleration he gets out of his backpedal is astounding and allows him to use his physical frame to break up the quick routes. Though he's not a liability on the back line, he does lack anticipation when playing deep which attributes to his low interception numbers. But there are plays where his speed and physicality make up for it. He has all the tools and with some coaching and a good scheme fit at the next level, Abrams could make the jump to being one of the most feared, hard-hitting safeties we've seen in a long time.
YouTube Highlights: