Jerry Tillery
DT
Notre Dame
Class Year: Senior
Height – 6'5″ Weight – 306 lbs
Twitter: @JerryTillery
Strengths:
Tillery is one of the best pass rushers in the draft, he is also a fantastic football talent who gets after the QB so well. He is hungry and determined to make his mark on the game. He loves pressure and sacking the QB and makes it known when he does so. He has near perfect size and is great with his hands. He knows how to push players out of the way and get to the secondary.
Weaknesses:
Inconsistency early in his career and is not a great run defender. His mid-season injury could be a problem but should be checked out by doctors at the Combine.
He can be stiff at times and need to work on his flexibility. He has been called an underachiever and will need to address those rumors at the next level.
He is a hot-head and will need to control that temper more in the NFL.
Giphy: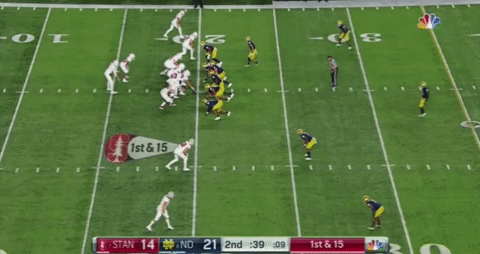 DL – Jerry Tillery gets after the Stanford QB
Pro Comparison:
Stephon Tuitt – Steelers
Overall Review:
Tillery is a lot to take in when it comes to Tillery. He has had some bad press on the field after he kicked an injured player in 2016 who may have had a concussion. He himself has a torn ACL in his shoulder and will have surgery after the Combine. There are also plenty of questions about his commitment to football. Tillery spends his time traveling the world to further his education. Now let me say, there is nothing wrong with that, but franchises need to be sure that you are 110 percent into playing football for them.
The interview process will be an interesting one in Indianapolis.
If it all checks out, he could be the third DT off the Board.
YouTube Highlights: