Trayvon Mullen
CB
Clemson
Class Year: Junior
DOB – 9/19/1997
Height – 6'1″ Weight – 190 lbs
Twitter: @MullenIsland1
Strengths:
Strong qualities of a cornerback/safety. Assertive, long arms and ball skills making him incredibly hard to catch against for wideouts. He has all the right physical traits to be a good NFL player.
Weaknesses:
Tight hips are a problem. As is his short area quickness and recovery speed. He can arrive at a contest late and is messy when doing so. Will see a lot of flags in the NFL if he doesn't tighten up that part of his game.
Giphy: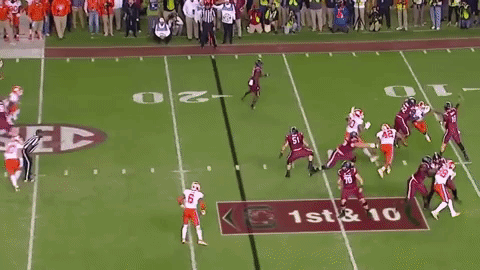 A low, hard tackle from #1 Trayvon Mullen
Pro Comparison:
Jalen Ramsey
Overall Review:
He needs a lot of work to be a quality NFL player. As a Junior, he could probably do one more year and grow into a solid player. Probably suits Safety rather than Cornerback in the big leagues.
YouTube Highlights: